The Paulton & District Skittle League annual charity donations,
known as the 'Ted Pack Memorial fund' being presented to
Paulton Hospital League of Friends (left) & The Jamie Vines Trust (right)
at our league meeting Friday 8th September at Westhill Gardens Social Club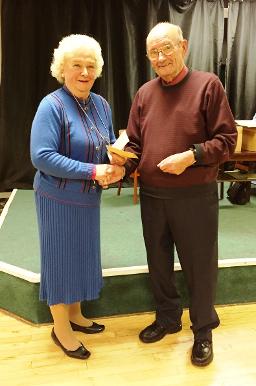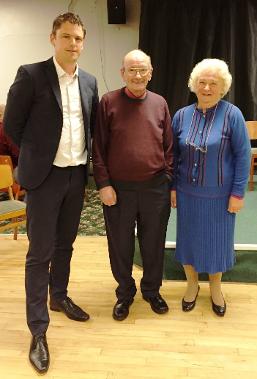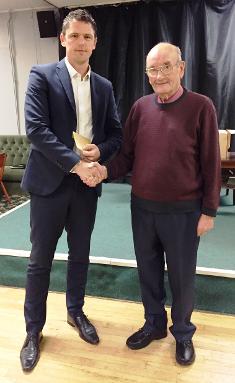 Paulton & District Skittle League 2017 - 2018
MINUTES OF MEETING HELD AT FARRINGTON HALL ON 6th OCTOBER 2017
(note:- All our league meetings start at 8pm)
Apologies from the Treasurer & Website Manager
Minutes of Previous Meeting were read and confirmed. There were no matters arising
Secretary's Report The Secretary reported:
(a) Outstanding matches and results were given.
(b) Outstanding K.O. results Smilies v Ivors 8, Lionhearts v Mid Norton C.C. (playing that night), Purnells C.C. v Bonus Balls (playing that night) All Sorts v Robs Revival (All Sorts conceeded as they only gave one date before Meeting)
(c) Remind teams that a Text message is not acceptable to give dates for the cup matches.
Draw 3rd Round K.O. Cup Matches to be played by the next meeting. Dates to be given in 7 days
Draw 1st Round Plate Matches to be played by the next meeting Dates to be given in 7 days
Skittler Of The Year Play-offs. All six play-offs have been arranged .
At Farrington Hall 6th Oct, Welton Rov 10th Nov, Mid Norton Social Club 16th Nov, Haydon Que Club 16th Nov, Norwest Bowls Club 16th Nov, Coleford legion 16th February. The Secretary has sent an E-mail to those with E-mail addresses. Will inform other teams with details.
Any Other Business:-
A letter was read to the Meeting from Friends of Paulton Hospital thanking for the donation.
Pin Breaks are offering two people to go to their Skittle Weekends at Fishguard or Caernarfon for free, these dates will be in February or March 2018. For more information contact the website manager.
Collection of Money Due concluded the business.
Next Meeting at Welton Rovers on 10th November.


This summer the Paulton & District Skittle League hosted the
Inter-League Charity Skittle Competition on Friday 7th July.
We came 4th out of 10 leagues in this charity fund-raising event.
The matches were staged at Prattens Club, Mardons Club & Norwest Bowls Club.
Thanks to all who participated.
PASSWORD PROTECTION HAS BEEN LIFTED (for now)
Sorry to have to do this but we have had several unwanted intrusion on our
Alley-Banter & Match Reports pages. Login & Password protection are now in effect on these pages.
Login is (web manager's first name, lower case) Password is (maximum you can hit with 3 balls)