Welcome to the
Paulton & District Skittle League
www.p-d-s-l.com

Message to all our sponsors
Due to the fact the the pandemic has meant that we had to suspend our season we have decided that your current agreement with us, which would normally be renewed in August 2020 has been extended until August 2021 free of charge. We thank you for your continued support of our league.
Thank you for visiting our site, please feel free to browse around. We hope you find it helpful, informative and fun.
The Paulton & District Skittle League is based in the North East corner of county of Somerset around the towns of Midsomer Norton & Radstock and it was in Paulton, one of the surrounding villages, where our league was formed way back in 1933.
The area prospered in the 19th century largely due to extensive coal mining. In Radstock there is the Radstock Coal Mining Museum which is dedicated to the men who worked long hours in these Somerset pits.
If you come to this area why not visit the museum, it will give an insight to the history of this lovely area of Somerset. If you click on the picture (left),
you can visit their website or watch an old film clip of how mining used to be like in the early part of the 20th century
.
~~~~~~~~~~~~~~~~~~~~~~~~~~~~~~~~~~~~~~~~~~~~~~~~~~~~~~
The Paulton & District Skittle League is a mixed league of both men & women. Our season runs from September to May and league games are played on Wednesday & Thursday evenings commencing at 8.45pm. If you would like to play skittles for one of our teams or you are part of a team and want to join our league, then please contact our league secretary on our 'Contact Us' page or call Graham Whittock on 01761 434904 / 07713 960477. League tables are updated to this site on Wednesdays during the season. All League meeting times and minutes will be posted on our 'News' page. Note; all meetings start at 8pm.
On this site you can view fixtures, results, tables, photos, rules and much more. Currently we have around 1000 members, men and women, from nearly 100 teams scattered in and around this beautiful area of Somerset. While browsing our site please feel free to make use of the many advertisers supporting our league.
Members:- You can email your skittle photos to me and they will be shown on our 'Gallery' page and while you're at it why not leave a blow-by-blow account of your game on our 'Match Reports' page or leave a comment on our ever popular 'Banter Board'. Go on give it a go, it's fun and it's free ! Note:- All our inter-active pages are password protected for data security.
Every season 15% of our league fees are set aside to aid local charities. The Nominated charity this season is Just4children (see News page)
If you run a business would like to sponsor our league then please

get in touch with us via the '
Sponsors
' page,
ads start from as little as £25 for a full 12 month, it's too good to miss !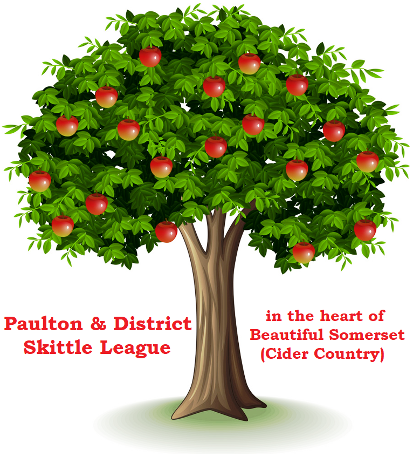 Get Involved

It's your website ! So please let us know what YOU want to see on this site.
Why not post your comments on our on-line 'Banter Board' Or why not write a match report for your team, it's so easy just go to the 'Match Reports' page, enter your name, type your report, click on post, that's it job done ~ Simples.
Entry/Transfer/Result forms can be obtained from 'The Briefcase' on the News page page.
Forms once completed must be returned to our League Secretary, Graham Whittock.
In line with Data protection protocol we have Password protected our inter-active pages.
Paulton & District Skittle League
Board & Committee Members.
President Vacant !
League Secretary G Whittock
Chairman P Derrick
Vice Chairman R Edgell
Treasurer D Hazelton
Website Manager K Parsons
Committee D Edgell
Committee D Baber
Committee C Mitchell
Contact details on Captain's Log page
A BIG thank you to all our sponsors & advertisers:
Arleen Coaches, Riverside Taxis
& The Greyhound
David Dando Plasterer - Homeworks Solutions
Serious About Events - Pin Breaks UK
Sam Chivers Estate Agency
Riverside Bar - AA Cater-Quip
Norton Garden Machinery
If you make use of any of our sponsors please tell them where you saw their ad - Thank you.