Now this Bonafide Genuine Spotter's Badge can be yours
for spotting mistakes/errors on this site - Happy spotting.
(subject to rigorous scrutiny from the website manager)
Yes it's a real badge ! 😂😂😂

Next Full Meeting
Fri 10th Jan - 8pm
@ Prattens Club
Due to recent security breaches I have extended the Password Protection to the following pages:

Captain's Log (Members Page) Results Form Match Reports Banter Board
The Log In & Password are the same for all pages.
Log In = Web Manager's first name. Password = maximum you can hit with 3 balls.
Example: Fred 99
Apologies for the inconvenience but theses were necessary steps. WM
Inter League Charity Competition
This years competition will be played in Wells on 12th June.
If you a interested in taking part then please call
Graham Whittock on 01761 434904.
~~~~~~~~~~~~~~~~~~~~~~~~~~~~~~~~~~~~~
Skittles Evolution:- Cups !
One proposal is to keep the K.O. Cup open to All Teams.
Keep the format 'as is' However once you lose you are out, there will be no dropping in to the Plate !
Nomination Cup - Div 1 & 2 only (32 teams)
Maurice Ladd Plate - Div 3 to 6 only (64 teams) This will now be a competition in it's own right.
(Maybe make this a Front Pin First competition ?!)
This proposal was debated long and hard and it is fair to say not all committee members were in favour.
So this proposal will be put to members at the AGM. If rejected we will stay with the status quo.
Paying your TEAM FEES !
As there will be fewer meetings to pay your League Fees, you can now pay by Bank Transfer if you wish.
Bank: TSB Midsomer Norton
Account name: Paulton & District Skittle League
Account no: 30440960
Sort code: 30-95-57
Ref: Your Team Name
Alternatively you can pay your League Fees by Cheque. Please make cheques payable to PAULTON & DISTRICT SKITTLE LEAGUE. Please write your team name on back of the cheque and sent to the following address.

Dave Hazelton ( Treasurer)
103, Wesley Avenue
Westfield,
Radstock,
BA3 3XF
ALL TEAMS BE AWARE
As it was decided at the AGM to have fewer meetings, any team not paying their League Fees in full by 8th November will be deducted 1 league point for each full week of non payment after this date.
All teams have paid their fees before the deadline. 👍
Changes from last season !
West End have resigned from the league, their place in Div 2 , for this season, has been taken by Head Hunters who play at Kings Head in Coleford.
Name Changes:-
Radstock Town Social Club to Radstock 8 and now play on Thurs at Radstock Working Mens Club.

Red Lion Diamonds to Diddy Diamonds and now play on Wed at High Littleton Football Club.

Alley Changes:-
Prattens B now play on Wed at Mardons Club.
Alley Cats now play on Wed at Midsomer Norton C C.
The Seven now play on Wed at Haydon Que Club.

Camshafters now play on Thur at Tuckers Grave.
Rebels now play on Thur at Westhill Gardens
Taxi Joes now play on Thur at the Greyhound
There have also been a number of captain and contact details changes. Please check the Captain's Log Page.
Skittlers Needed
Welton Rovers needs 1 or 2 new players for next season. We play at Welton Rovers on Wednesdays and if you would like to join us then please email Simon at simonlilly05@hotmail.co.uk - Thank you.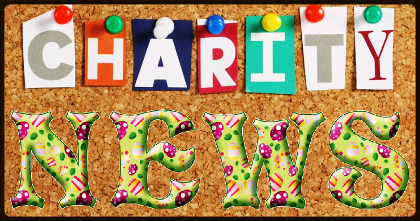 The Paulton & District Skittle League annual charity donations,

known as the 'Ted Pack Memorial Fund' will be given to
Skittle President Robin Thompson presenting a cheque for £1500
to the mother of Harry Latchem for the Just4children Charity.
on 6th September 2019 @ Westhill Gardens Social Club.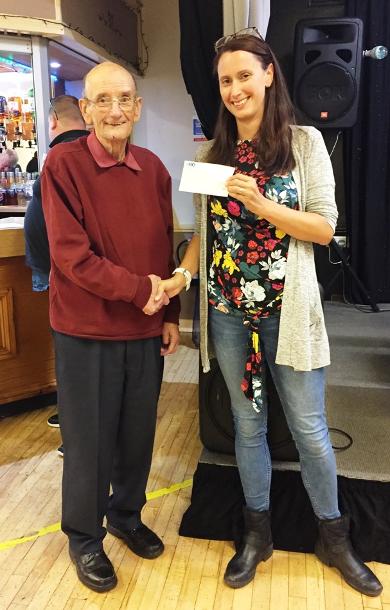 Charity nominations are usually put forward at our May meeting or at our AGM. Any member who wants to nominate a charity for next season can come along and put your nomination forward. - Thank you.
If you would like to put an ad on our site or you know of a local business that you think could benefit from advertising with us then please get them to contact the website manager.
Our ads start from as little as £25 per year.
Tel:- 07368 398615 Email:- skittleman002@sky.com