~~Charity News Below~~
We still need charity nominations
for our June AGM Payout.
One nomination in so far,
Dorothy House proposed by Brian Scurlock

Coleford Royal British Legion:-
Teams of 8. men, women or mixed. Interested ?
phone Heather on 07989 642794 or
email
heather.allen10@btinternet.com
with your name and contact details.
Kings Head - Coleford:- Interested ? Please call Dave Horler on 07894 054111 / 01373 812346 or email davehorler@hotmail.com
Play-Off update !
OK this is where we're at..... Misfits v Loft's 8 will be played on 10th June. Then there is the PP league match; The Rec v Headhunters which is being played on 23rd May so the division 6 play off can take place asap after that. That will be Dambusters v Headhunters or Riverside Rollers.
All matches, league tables, Cups and prizes will be concluded before AGM on Friday 17th June @ Radstock Working Mens Club 8pm.
Entry/Re-entry Forms:- If you have not received you form yet please contact Graham. Please return then to Graham asap so we can ascertain how many teams want to re-enter the league in September.
Sponsorship
:- We have lost a few sponsors over the last 3 or 4 years, so this summer we would like to recruit new sponsors ! If you know of any businesses large or small who you think would like to sponsor or advertise on our website then please get then to contact me, direct or through our
'Sponsors'
page - Thank you.
Our AGM will be on Friday 17th June @ Radstock Working Men's Club. 8pm
(Presentation of Trophies & Awards)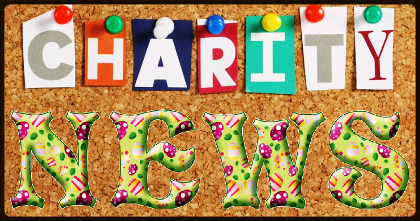 The Paulton & District Skittle League seen here presenting a cheque of £1,500
to Daniel O'Callaghan (centre)
on behalf of the RUH Forever Friends Charity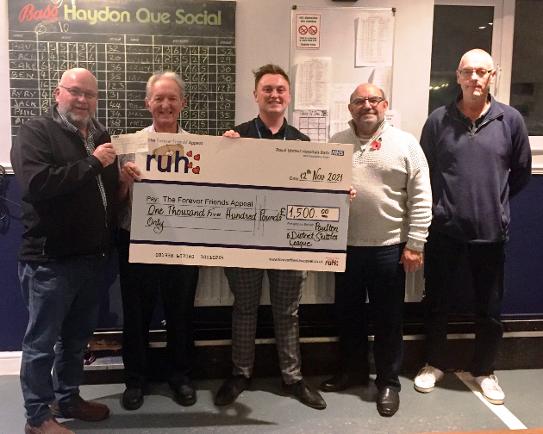 Our Charity donations for 2021 - 2022 season go to
Radstock Scouts Group - McMillan Nurses - Dorothy House.
These donations will be paid out a our AGM on 17th June 2022.
Now this Bonafide Genuine Spotter's Badge can be yours
for spotting mistakes/errors on this site - Happy spotting.
(subject to rigorous scrutiny from the website manager)
and Yes it's a REAL badge !
😂😂😂
I still have about 20 of these so if you want one
please come see me at the next meeting !

If you would like to sponsor our league, put an ad on our website or you know of a local business that you think could benefit from advertising with us then please get them to contact our website manager.
Our ads start from as little as £25 per year.
tel: 07368 398615 email: skittleman002@sky.com